home
Sommelier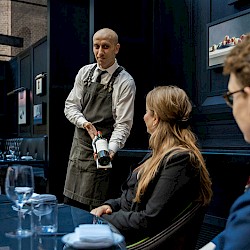 Bedrijf
Conservatorium hotel
Type horeca
Brasserie restaurant in Hotel
Plaats
Amsterdam
Dienstverband
Fulltime
Functieomschrijving
In a captivating setting, where vibrant elegance meets cultural richness, discover a location like no other. The city's crown jewels – the Van Gogh Museum, the Royal Concert Hall, Rijksmuseum, Vondelpark, and Amsterdam's most indulgent shopping – are just steps away. Adjacent to the cultural epicentre of the Museum Quarter, the regal Conservatorium hotel seamlessly blends the charm of the past with the allure of the present, as it continues to be crowned as the Netherlands' number one luxury hotel is looking for a fulltime Sommelier.
Are you an enthusiastic and guest-orientated wine professional? Do you enjoy providing high-end  service and sharing your wine and food passion with both guests and colleagues? Join the team of  the Conservatorium hotel and write the next chapter of your career together with us! 
What can you expect? 
• A salary range starting at €2530, - (full time) and appropriate employment conditions, travel  allowance based on your commute and a uniform that is cared for at work;
• An inspiring work environment where you have the opportunity to follow courses and  trainings in house to further develop your skills; 
• Amsterdam F&B Discount Card – 50% discount in restaurants at other high-end hotels in  Amsterdam; 
• Discounted Health Insurance – get reduced rates on our collective health;
• Weekly Colleague Workout – hosted by our personal trainers; 
• In-house Experiences – once-a-year complimentary stay in our hotels to both truly enjoy  and learn about our guest experience; 
• Discounted rates on the properties of The Set Collection – Amsterdam, Paris, London and  Israel. 
What are you going to do?  
As Sommelier at the Conservatorium hotel, you will advise guests on their wine choices, provide  wine service and share your enthusiasm for both the restaurant and wine. You share your passion,  product knowledge and enthusiasm with other hotel colleagues through reoccurring wine  trainings. You on possible updates on the wine and beverage lists, attend wine tastings and  collaborate with the other Food & Beverage outlets in the hotel. Through your service-minded  approach you effortlessly switch between serving your wine pairings to serving plates or clearing  tables if assistance is needed on the floor. 
What will your 5-star luxury working environment look like? 
The restaurant and lounge are located in a beautiful internal glass courtyard which has  spectacular floor-to-ceiling windows. Our restaurant offers French classics with a signature twist  by Schilo van Coevorden. 
The restaurant team consists of Hosts, Waiters and Baristas. They all report to the Restaurant  Manager, who you will work together with closely. The restaurant is open daily from 6:30 until  midnight. Evenings shifts can finish as late as 02:00AM. Keep this in mind when applying for this  position.
The Conservatorium hotel is a 5-star luxury hotel in Amsterdam and has been selected as one of  the best 25 luxury hotels of Europe over the past five years. We are one of the four founding  members of The Set Collection. A carefully curated luxury hotel collection, comprising of some of  the world's most exceptional, likeminded, independent hotels and resorts worldwide. 
Who are you?  
Our new Sommelier is passionate and knowledgeable about food and wine, well-versed in food  and beverage etiquettes; and a strong storyteller and communicator. You enjoy a role that is  diverse in its responsibilities and you look to others in your team to achieve a shared success. Furthermore, you /have: 
• A minimum of 1- 2 years' experience as sommelier in a luxury restaurant or hotel;
• Excellent verbal knowledge of the English language, Dutch is preferred;
• Passion, skill and knowledge regarding French Cuisine and Wines (preferred diploma  is WSET 3-4 or equivalent); 
• Ability to work evening and weekend shifts; 
• Drive to succeed and the ability to overcome obstacles. 
Are we your next destination? 
Please contact the Human Resource department via +31 (0)20-570 0042 or send your CV and  motivation letter to: recruitment@conservatoriumhotel.com.  
Due to the abundance of applications, we receive for our career opportunities we will only reply to  candidates that fit the job profile. When applying with us please make sure that you are eligible to  work in the Netherlands, have secured housing in Amsterdam and have the right experience and  motivation. According to GDPR regulations, we will not save your personal details without your approval.